By admin on Jun 18, 2013 with Comments 0
by
by
Click here to buy the At the Gate of Sethu album
Description
A review of the seventh studio album, At the Gate of Sethu by American Brutal/Technical Death Metal band, Nile.  It was released on June 29, 2012 in Europe and July 3, 2012, in North America through Nuclear Blast Records.
Nile – At the Gate of Sethu Album Cover
Current Band Lineup:
Karl Sanders: Guitars, Bass, Keyboards, Vocals
Dallas Toler-Wade: Guitars, Bass, Vocals
George Kollias: Drums, Percussion
Todd Ellis: Bass, Vocals
At the Gate of Sethu Review
Nile is a Brutal/Technical Death Metal Metal band from Greenville, South Carolina, formed in 1993. Over the course of seven albums, Nile has become successful in the Death Metal genre. Their albums have Egyptian/Middle Eastern mythological themes in the lyrics and sound atmosphere.
The last couple of albums, "Ithyphallic" and "Those Whom the Gods Detest", you have seen Nile experiment with a more epic and ambience sound. With this current release, At the Gate of Sethu, Nile returns somewhat to their base Brutal/Technical Death Metal sound they had on their first full length albums, Amongst the Catacombs of Nephren-Ka and Black Seeds of Vengeance albums.
Those two releases happen to be their best albums. If you are expecting some progression with their lyrics, forget it. Nile always has Egyptian Mythology themes in their songs. They are very much like Deicide and Fear Factory in not straying from their signature lyrical formula.
There aren't as many atmospheric instrumental interludes on the At the Gate of Sethu album. The band members in Nile are very skilled and remain tight as always with their instruments. Karl Sanders and Dallas Toler-Wade are very creative with their guitar riffs. They use highly technical scales, multiple tempo shifts, tremolo riffs and odd timings.
The complex guitar riffs on the At the Gate of Sethu album are very fast and brutally heavy, but still remain catchy. Nile normally uses a three way vocal attack. On the At the Gate of Sethu album, they only used three members to record. Todd Ellis, the bassist joined afterwards for live show duties.
Click here to buy the At the Gate of Sethu album
Karl Sanders and Dallas Toler-Wade provide a mixture of harsh barking/growls with some screams and chanting. Karl Sanders sounds as good as ever with his low-growling vocals on the At the Gate of Sethu album. Dallas Toler-Wade gives a decent performance with his atmospheric screaming/spoken vocals.
The drumming on the At the Gate of Sethu album by George Kollias is very punishing and machine gun like in speed. He uses blastbeats for the aural assault with the help of drum triggers. George Kollias is one of the best Death Metal drummers. A highlight of Nile's great technical ability and their excellent song structuring is "The Gods Who Light Up The Sky At The Gate Of Sethu" song.
There are some nice shredding solos done by Karl Sanders on a couple of songs such as, When My Wrath Is Done and Natural Liberation Of Fear Through The Ritual Deception Of Death. At the Gate of Sethu has a disappointing hindrance to it, which is the album's production. Unlike Nile's previous albums this one has a thin guitar and drum sound.
They are somewhat buried underneath the vocals. The Bass guitar isn't very audible either. Make sure to have a good pair of headphones and adjust your sound card's equalizer. At the Gate of Sethu has two instrumental only tracks, Slaves of Xul and Ethno-Musicological Cannibalisms. Despite the lack of crunchiness to the production. Nile with their latest release, At the Gate of Sethu do not let down. I've liked all their albums since I first bought their Black Seeds of Vengeance album in 2000, after reading about them in Relapse Records magazine.
The best songs on At the Gate of Sethu album: The Gods Who Light Up The Sky At The Gate Of Sethu, Enduring The Eternal Molestation Of Flame, Natural Liberation Of Fear Through The Ritual Deception Of Death, The Fiends Who Come to Steal the Magick of the Deceased
Nile - At the Gate of Sethu Album Review: Done by Rancel
Click here to buy the At the Gate of Sethu album
Nile – Enduring The Eternal Molestation Of Flame [Official Video]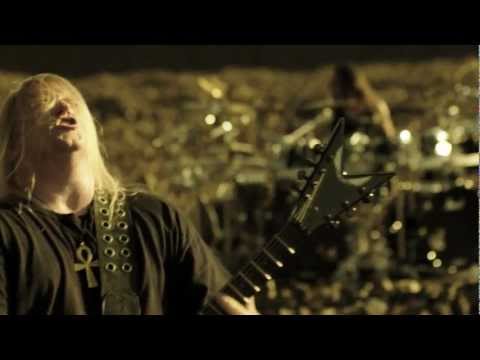 Related articles
About the Author: