By admin on Feb 12, 2013 with Comments 1
by
by
Stalingrad 1993 Movie Review: Done by Rancel
Click here to buy Stalingrad [Blu-ray]
Description
Stalingrad (1993) is a war drama film directed by Joseph Vilsmaier. The movie tells the story of a platoon of World War II German Army soldiers. They have been assigned to Russia and find themselves joining the Battle of Stalingrad. Three previous movies have portrayed the Battle of Stalingrad. First there was The Battle of Stalingrad (Сталинградская битва), a 1949 two-part Soviet movie, Stalingrad: Dogs, Do You Want to Live Forever? (Hunde, wollt ihr ewig Leben), a 1958 West German film directed by Frank Wisbar, and Stalingrad, a 1989 two-part film directed by Yuri Ozerov. The Stalingrad (1993) film is quite long at 150 minutes. The DVD language is in German with English subtitles.
Summary
The Stalingrad 1993 movie is about a Platoon of German Soldiers: Lieutenant Hans von Witzland (Thomas Kretschmann), Sergeant Manfred Rohleder 'Rollo' (Jochen Nickel), Fritz Reiser (Dominique Horwitz), Gege (Sebastian Rudolph), Otto (Sylvester Groth), Captain Hauptmann Musk (Karel Hermánek), Müller (Oliver Broumis), and Wölk (Zdenek Vencl) are sent to the Eastern Front to fight in the Stalingrad battle in Russia. The platoon takes a factory, but at a heavy price as they are surrounded by the Russians. In an attempt to save the wounded outside Lieutenant Hans von Witzland proposes a ceasefire.
Stalingrad 1993 – English Trailer – HD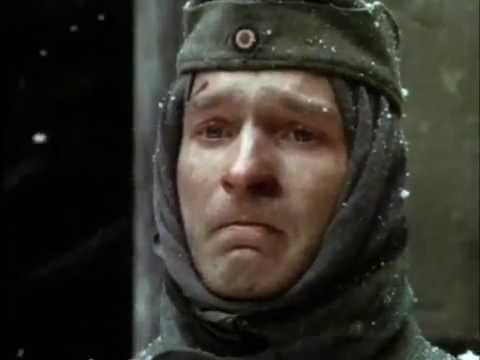 The Russians accept it for a brief moment. Müller ends up sabotaging the cease-fire as he fires upon the Russians when he thinks they are going to attack. A young Russian boy named Kolya is captured by the Platoon in the ensuing firefight. The boy escapes the next day when the firefight continues. The Platoon of Germans enters the sewers to go for help since their radio isn't working. Von Witzland captures a Russian soldier named Irina (Dana Vávrová), when he is separated from the others. She tricks them into thinking that she will lead them to safety and pushes one of the soldiers into the filthy sewage water and Irina ends up escaping.
The Platoon finds him and gets him some medical attention, but he ends up dying anyway. Fritz Reiser, forced one of the medics to work on the injured soldier and is punished along with the others by Hauptman Haller (Dieter Okras). As a result, they are forced to work in a penal mine field. Captain Hauptmann Musk gives them the opportunity to redeem themselves and they return to their old unit. Haller orders them to kill unarmed civilians, including Kolya. The Platoon refuses at first, but understands that they will be killed if they don't go along with it.
Kolya along with the other civilians are executed by firing squad. Morale is rapidly declining among the Platoon after some brutal battles and they are starting to see that the war is lost. Fritz Reiser proposes to his Platoon that they should fake being wounded and escape in a medical evacuation plane. Von Witzland and the others go along with Fritz, but the last German transport takes off without them as the base is shelled by Russian artillery.
They head to a shelter where Musk is in with an injured leg. A German transport aircraft drops a container of supplies. The tired and hungry German soldiers eat any food they can find. The very sadistic Hauptman Haller shows up and tells them they are going to be killed for looting. Captain Haller pulls out his gun and shoots Muller, but is killed as well. The other's commit mutiny by killing Captain Haller.
Soon after, the broken soldiers head to a nearby house with food and supplies. They argue among themselves and contemplate raping Irina, who is bound to a bed. Irina is saved by Von Witzland and she offers an escape route to the remaining soldiers. They exit the house and into the brutal cold where Irina is shot to death by Russian soldiers. Von Witzland and Fritz Reiser escape, but freeze to death in the harsh Russian winter.
Click here to buy Stalingrad [Blu-ray]
Stalingrad 1993: The Review
The Stalingrad 1993 film is a landmark in war cinema. It gives an accurate adaption of why war is hell. The film shows all the ugliness and horror of being in a war, the human emotions of being a soldier and fighting for your life in the face of danger. Stalingrad shows you how a man can break down in the heat of the battle. Some of the soldiers are seen crying like a little kid, others are seen shitting and pissing their pants. The blood curdling scenes with soldiers suffering from their injuries and screaming are not for the squeamish. The scenes are very graphic in detail. In one scene, a soldier is blown in half by a tank artillery shell.
The soldier is seen screaming in horror while standing upright with the remaining part of his upper body, as he waits to die. The scenes with the medics tending to the wounded are also very graphic and filled with screams of anguish. Even though this film is over 2 hours, you will not get bored with all the action and well acted drama scenes. The production and the effects use in the Stalingrad 1993 movie are top of the line. As for the personality of the soldiers depicted in the film, there isn't much to them except for von Witzland (Thomas Kretschmann) and Fritz Reiser (Dominique Horwitz). Those two I mentioned are the charismatic ones in Stalingrad, as they struggle with their morals. They are thrust into an evil situation ruled by fear and eventually resist.
There are two sides to the depiction of the Nazi regime in the Stalingrad 1993 movie. You see them at their most evil with characters like Captain Haller (Dieter Okras), who is depicted as a cold and a incorrigible Nazi soldier. He is without empathy and a nasty disposition. You will not like Captain Haller as you watch him throughout the film. The Platoon was portrayed as just following orders at the time, because they will be killed if they don't. Throughout film, the German platoon reveal their human side as they show their defiance in several scenes and ultimately end up committing treason.
Unfortunately for these soldiers nothing good came out of it and they ended up broken, buried, and freezing to their deaths in a dark morbid ending scene. The haunting music, which is very well done, adds to the dark and depressing atmosphere in Stalingrad. It is played in the background in the film's most chilling heart wrenching scenes. The Stalingrad 1993 film is not for people looking for a happy ending. Some people may not enjoy it because of that reason. Stalingrad is just too depressing with its harsh and accurate portrayal of what war is like.
If you are looking for realism, brutal action, and great acting, you will enjoy Stalingrad 1993. I love the haunting surreal image at the end of the two soldiers freezing to their deaths in the snow. I reviewed my regular DVD version, that I believe judging from the picture quality is VHS Sourced. I will soon upgrade it to Blu-Ray. I hope it has special features included on it. If you like WWII based movies like Stalingrad, you should also check out Das Boot. It is set during WWII as well and follows the crew members of a German U-Boat.
Click here to buy Stalingrad [Blu-ray]
Watch Stalingrad 1993 for free
Related articles
Summary
Article Name
Stalingrad 1993 Movie Review
Author
Description
Stalingrad is a 1993 war drama film directed by Joseph Vilsmaier. The movie tells the story of a platoon of World War II German Army soldiers. They have been assigned to Russia and find themselves joining the Battle of Stalingrad.
Filed Under: War
About the Author: