By The Eradicator on Nov 26, 2012 with Comments 0
Vampire Hunter D 1985 Film Review: Done by Rancel
Description
Vampire Hunter D is a Japanese horror themed anime film that came out in 1985. It is directed by Toyoo Ashida and was based on a series of Japanese novels written by Hideyuki Kikuchi. I am not familiar with the novels and never read them. I first found out about Vampire Hunter D when I started buying anime movies on the old VHS video format in the early to mid-1990's. I bought it when Streamline Pictures were licensing and dubbing many popular anime into the U.S. Market during those days. There was no Japanese audio available for that VHS release, but the dubbing was somewhat tolerable, at least somewhat better than earlier ones such as Go-Lion Voltron and Macross/Robotech in the 1980's.
Summary
Vampire Hunter D (1985) is set in the far future in the year 12,090 AD, in a post-nuclear holocaust world where vampire nobility terrorizes human peasants. It begins with young Werewolf hunter Doris Lang being attacked by Count Magnus Lee, a 10,000 year old vampire lord. Magnus Lee intends to make Doris his vampire bride. She enlists the services of a mysterious horseman named "D" to protect her from Magnus and other monsters.
D finds himself battling his way to the home of Count Magnus Lee to rescue Doris and prevent her from being embraced by the vampire lord. The evil Magnus Lee lives in a giant gothic castle There are dark forces in D's way, the lecherous and creepy Greco Rohman, the mayor's son who wants Doris for himself, Count Magnus Lee's mutant servant Rei Ginsei, and Lee's daughter Lamica. The previously loyal Rei and Lamica eventually turn against Magnus Lee. D also must overcome his natural vampiric tendencies and lust for Doris. All the while this is going on, D falls in love with her. D, the heroic vampire hunter is aided by a bizarre and mouthy symbiotic/parasite that is embedded in his left hand.
The parasite is really cool, because he adds some humor into the film with his funny voice and the argument he has with D when he is trying to resist the urge to bite Doris. The symbiote revives him at one point when D is staked, his hand is cut off by Rei, and left to die in the sun. D is a half-breed, meaning he is the offspring child of a vampire father and a human mother, which makes him a Dhampir/Dhampyre. You will find out while watching, that some other key character is also a Dhampir.
The Review
The Vampire Hunter D 1985 anime movie is very dark and violent. It has some nudity in a couple of scenes, but no sex. There's lots of blood and gore. Vampire Hunter D  1985 features several cool characters with even the bad guys being likeable. Rei is my second favorite character next to D. He has honor to his personality, because he isn't completely evil. Rei Ginsei shows he has a heart in a couple of scenes. Rei shows off his redeeming qualities when he kills Greco, saves Dan (Doris little brother) from falling to his death, and smiles at the kid after rescuing him. Rei also tries unsuccessfully to kill the Count. Lamica redeems herself by aiding D in his fight against her father. My special edition DVD of Vampire Hunter D 1985 is in serious need of a Blu-ray upgrade, because the picture transfer is horrible looking at 4:3 full screen aspect ratio on my HD TV. The sound is low in volume and thin sounding when using my HD receiver.
The instrumental music for the anime film is epic sounding, which fits D well during his battle scenes. I particularly liked the ending song, which was very beautiful sounding. It highlights the scene with D riding off into the sunset, while Doris and Dan are seen waving, and saying goodbye to him. I have watched the movie in its original Japanese language with subtitles and the dubbed version. The Japanese language as always is the way to when watching anime. The dubbed version is tolerable. To see more of the Dhampir's adventures, watch Vampire Hunter D: Bloodlust (2000). The sequel is better in many ways and has improved animation.
Vampire Hunter D 1985 Heroic Ending Theme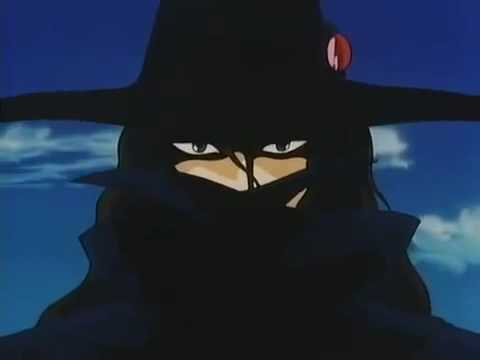 Related articles
Summary
Article Name
Vampire Hunter D 1985 Anime Review - Eradicator Reviews
Author
Description
My review of the Vampire Hunter D 1985 Japanese anime movie. The graphically violent animated film features vampires, werewolves, and weird looking mutants.
Filed Under: Animation
About the Author: Hello and welcome to Rancel's Movie, TV Show, Animated Films, and Japanese Anime Review Website. I love writing, watching films (especially foreign cinema and horror), playing video games, listening to music, repairing computers, and spending time with people I love. I have always been into the world of cinema, animated films, and TV series. So now as an adult I am an amateur film reviewer and intend on getting a degree in journalism.
Comments (0)